Alaska's largest city, Anchorage, lies between the mountains and the sea and yet is no stranger to the wilderness. There is no other urban area like it.
Among the northernmost cities on Earth, Anchorage is a place with big-city amenities: fine restaurants, museums, theaters, and an excellent music scene. Creating the backdrop are the salmon-rich waters of Cook Inlet and the 5,000-foot-plus peaks of Chugach State Park. Within a short drive from downtown are dozens of wilderness adventures and a short plane ride opens up the possibility of almost any type of adventure. That's one reason why Anchorage's Lake Hood is the world's busiest floatplane base. Anchorage's approximate 300,000 residents embrace both the urban amenities and the wilderness beyond it.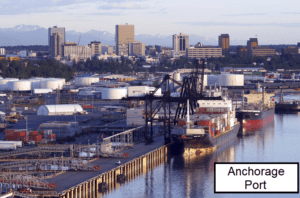 It is Alaska's premier inbound cargo port that handles more than 3.9 million tons of fuel and freight in 2018. About half of all Alaska inbound marine cargo crosses the port's docks . . . that leverage hundreds of millions of dollars of public and private infrastructure, including more than 125 acres of cargo handling yard, 3.4 million barrels of fuel storage, 60,000 tons of cement storage . . . and marine, road, rail, air, and pipeline connections to all of Alaska.
The Port is in tsunami-proof Upper Cook Inlet, adjacent to Alaska's population center and primary business and transportation hubs. It is U.S. Department of Commerce Foreign Trade Zone No. 160 that provides tariff benefits that improve federal, state, and local business competitiveness. It is also one of 17 (including Guam) Department of Defense-designated "U.S. commercial strategic seaports" nationwide.
Port of Alaska serves deep-water vessels that operate year-round to transport cargo faster, cheaper, and more reliably than any other means. It is a critical piece of economic and national defense infrastructure that helps keep our nation strong . . . and Alaska produce fresh.